From Serena and Lily, a wonderful textile company, comes the beautiful Prague Market Sling.  The simple design is made from one seamless piece of fabric, free of buckles and straps and so easy to wear!  My husband and I (and baby too!) have both gotten a great deal of use from this sling during my sons first few weeks of life, both indoors and out.  My infant son absolutely adores being close to his mommy in this sling and it is a sure way to calm is crying anytime he is a bit fussy.
The Prague sling is made from high quality jersey cotton, and is very breathable and comfortable for both you and your baby.  With celebrities like Nicole Kidman and Ethan Hawke photographed wearing the Prague Sling, its no wonder why it has become such a hit with so many parents and their babies!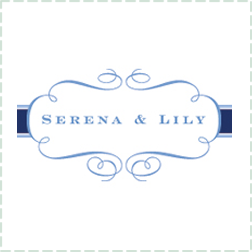 The Serena and Lily website has the whole selection of their wonderful child-centric products which includes everything from bedding to house paint!  Be sure to visit, you won't be disappointed!
This review is based strictly my opinion. Others may have a different opinion or experience with the product listed above. No compensation was received for this review.
Similar Posts: