Bath time for your little one just got a bit easier thanks to Baby in Grace!  Baby in Graces' organic Baby & Me Bath Towel allows you to bring your wet baby from the bath tab to immediately into your arms without chilling your little one or getting your clothing soaked.  The uniquely shaped towel drapes around mommy like a bib and its large surface area more than easily wraps around baby straight after bathing.  The towel is made from 100 percent luxurious organic bamboo terry cloth and ribbed cotton and is naturally anti bacterial and anti microbial.  It is also naturally soft and super absorbent!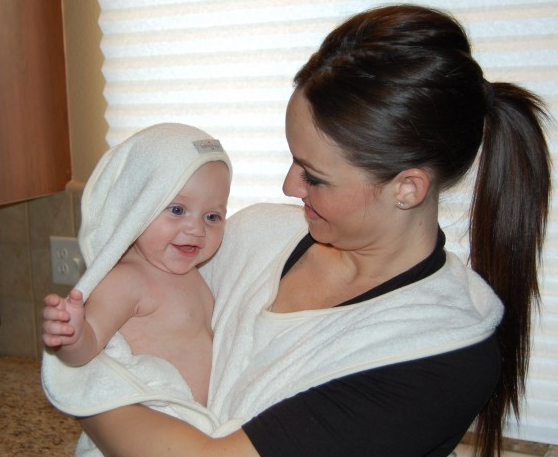 Make your child's' bath time more comfortable for both you and your baby with the Baby and Me bath Towel!
Bathing in Grace is offering the Baby & Me Towel to one of our readers! Simply visit their website and leave a comment about your thoughts.
For additional entries:
1) Subscribe to Does Mommy Love It? then leave a comment stating you did so.
2) Twitter about the contest and leave us a hyperlink to the tweet!
3) If you haven't, please join our FACEBOOK FAN PAGE!
4) Write a post on your own blog about this giveaway and comment with thepermalink to this post.
5) Grab our button and put it on your sidebar and comment with a link to your blog.
6) Email 5 of your friends and tell them why they should check out DoesMommyLoveIt?. Be sure to COPY us on the email (doesmommyloveit@gmail.com)! Then comment stating you did so.
This contest ends March 25th, 2011 Midnight EST. Click here for contest rules at DoesMommyLoveIt.com!
This review is based strictly my opinion. Others may have a different opinion or experience with the product listed above. No compensation was received for this review.

Similar Posts: